Center Ice by Cate Cameron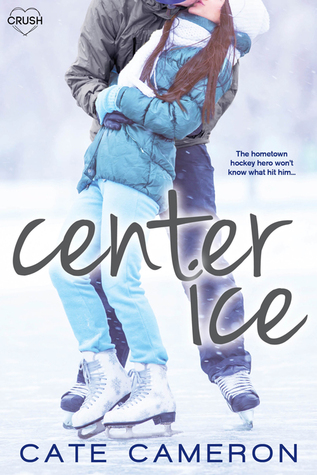 Karen moves to a new town with her father's family after her mother dies. She can't seem to get along with them and feels she doesn't really have anyone who understands her until she meets Tyler. Star hockey player, good looks, what else could she ask for? It turns out he's having his own problems at home with pressure from his agent and father to try harder, do things their way. They might be just what each other need... if Karen can get past the fact that he is a player and may cheat on her, just like her father is doing to his wife.
I really liked this book. It was a light, fluffy sort of read, going by fast but leaving me speechless. I loved how much it involved hockey, me being a hockey player I can really connect. I've sort of been feeling negative about hockey lately, what with having an awful coach this past year, and this book really made me remember all the good points of it and why I fell in love with the sport in the first place.
I feel the author did a very good job fleshing out the characters. They seemed real to me and obviously I really liked Tyler. He fessed up to bad things he did in the past and changed his ways for Karen and to grow up. I also loved how different character's actions changed towards Karen throughout the book and how she started to blend into her new home better and become friends with her new family.
The plot in this book was average, but somehow the writing made it seem much better quality than it really was. I'm not really sure how to describe it, but it was something that I sort of liked.
***Thank you Entangled Publishing and Netgalley for supplying me with this ARC. I really appreciate the opportunity to read and review it. This did not influence my rating or review in any way.***
Thanks for reading!
~Bri